| | |
| --- | --- |
| Price: | $ 9,300 |
| Make: | Cadillac |
| Model: | Brougham |
| Body type: | Sedan |
| Condition: | Used |
| Mileage: | 100194 |
| Engine: | 5.0 Ho |
| Exterior Color: | Black |
| Interior Color: | Tan |
| Fuel type: | Gasoline |
| Location: | , San Diego Ca Us |
| SellerID: | pebbleandrock |
| VIN#: | Free VIN Check |
Seller's Notes:
The car is in Great shape and looks to be well maintained. It is not a perfect car but it is darn clean! 1 Owner and the guy for sure took care of it! There is a description below but if you are serious then you should watch the video for a complete description and video of flaws that I found on the care. This is gonna make someone a GREAT Cruiser!
This is a Clean 1 Owner 1988 Cadillac Fleetwood Brougham d'Elegance
The car looks great SO many people look and say "nice car" when fueling up etc. I have included pictures and mostly a Video. Even though this old guy took care of the car I always mistrust belts and hoses etc until I get to know the car.
This is a 11th Digit 9 which means it has the Higher Output Motor stronger trans and "Commercial Chassis" These usually were the ones that were produced for Conversion to Limos etc. Although its only 15 to 20 horsepower more it is a boost no less. The car is not perfect but it is well maintained and clean car call anytime to buy cause its for sale Nathan 406 546 8748
See the Video below for a Full Review!
This Cadillac was taken care of and it shows however it is not perfect. Rather than fix these issues and charge you for me to work I am selling as a light project and you can fix the small issues yourself on the cheap! Some things you may not even fix. I have cruised it around for 3-4 weeks and it runs and drives good any issues I list below and in the Video.
Honestly the best way to see this car is to check out the Video and see every detail.
Call Anytime Nathan 406 546 8748
Check out the pics but check out the Video it shows EVERYTHING up close!
See the Video below for a Full Review!
AND MORE!!!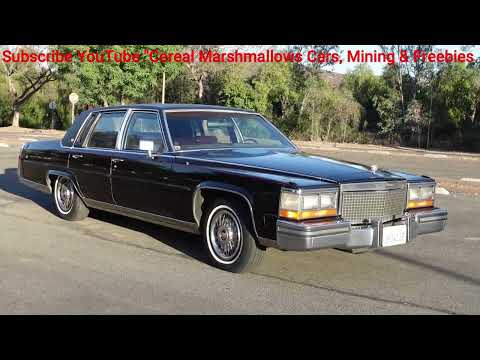 Cadillac Fleetwood Brougham d'Elegance Big Body Big Black Caddi Mafia Mob Limo Classic Car
Video will open in a new window
Using the eBay App? Paste link into a browser window:
.
Make sure and Call or Message with any questions Nathan 406 546 8748
This car is sold AS IS Where it is Transport is Buyers responsibility. I will help Arrange and Meet the transporter or You if you are towing it home. Cash, Bank Wire Bitcoin Only or other Crypto. The dash has a few cracks, The lights and blinkers are not working and it is a fuse issue I was told, The Odometer and Speedometer are not turning however according to autocheck this is a recent issue and mileage is pretty close! The car has had parts of the car or all repainted and overall it looks great you will see in the video how it looks I go pretty in depth. It is again not perfect though please refer to video. The car will diesel or idle rough when going slowly through parking lots etc needs a tuneup. Missing a button on driver seat a/c needs recharge Steering wheel has usual cracks and I am sure I left something out so see the video and ask any questions. It is a running driving car that looks great 1 Owner and ready for a new owner.
I am listing quite a few Clean Classic Cars and Pickups Check out my EBAY Store link below