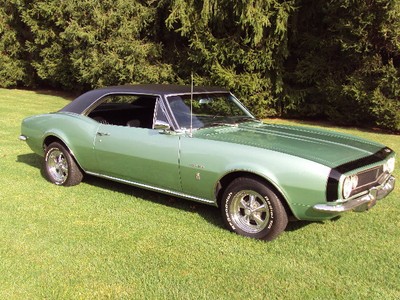 | | |
| --- | --- |
| Price: | $ 13,100 |
| Make: | Chevrolet |
| Model: | Camaro |
| Condition: | Used |
| Mileage: | 117000 |
| Engine: | 250 6 Cyl |
| Location: | 07446, Ramsey, New Jersey |
| SellerID: | 1188476220@deleted |
| VIN#: | 123377n247418 |
Seller's Notes:
Fabulous Original 1967 Camaro! 250 6 Cylinder, 3 speed Manual Floor mounted transmission. I have Original Retail Instalment Contract, Original Title Abstract Copy, and Owner's Manual with Protect-o-plate. This car has basically had one owner. Purchased New at Shea Chevrolet in Hackensack NJ (See Photos of orginal Installment Contract). At the time he paid $2,657.40. Making 36 payments of $65.53. Boy have times changed!!!!! I have an ORIGINAL Copy of the Title for the car. The car was then passed to the original owner's son on 12/27/1977. He kept the car until recently when it was purchased by a friend. He only had the car a few weeks when he had to get rid of it. After looking at the car and seeing all the documentation I bought it. Car is in excellent condition. I has the Original Engine, Transmission, excellent original Vinyl Top, Repainted in the original color about 10 years ago. Still looks quite good. There is a small scuff on the right rear that can be easily fixed (see Photo). Glass is good with a little scuffing on the driver' window. Chrome is original and show some age. One Rear Bumper Guard is missing part of the rubber and one Front Bumper Guard is dented (see Photos). This car is extremely solid and has its original sheetmetal. Also have 4 nice Original Hubcaps. Interior is in excellent condition, nice carpets, headliner, only a couple of small splits on the top of the back seat from the sun coming through the window. Updated Stereo with Cassette in dash. Car runs and drives really nice. Transmission shifts smooth, Brakes stop well. Very tight. Great car for taking on a drive, to a show, and just have some fun. Could be a good candidate to change engine and trans and even make intor a protouring car. If you have any questions please feel free to contact me. Good Luck Bidding!!!! TERMS OF SALE WE DO ONLY PRIVATE AUCTIONS TO PROTECT OUR BIDDERS FROM FRAUDULENT CONTACT BY SCAM ARTISTS! I HAVE TRIED TO DESCRIBE THIS VEHICLE AS ACCURATELY AS I POSSIBLY CAN. If you have any questions please contact me and I will be glad to answer your questions. I encourage you to come, see, and drive this car for yourself. This vehicle is available for inspection prior to the close of auction. We will be happy to accommodate 3rd party inspections. THIS VEHICLE is being actively sold locally as well as on Ebay. If the right price is offered this car will be sold and the auction ended early! Sold in As-Is-Condition. No Warranty Implied. A NON-REFUNDABLE deposit of 25% is required within 48 hours of end of auction, the remaining balance paid within 7 days of end of auction. Only cash or certified check, or wire transfer. SERIOUS BIDDERS ONLY PLEASE. You are entering into a legally binding contract. Non paying winning bidders will prosecuted to the fullest extent of the law! PLEASE KEEP YOUR BIDS IN MIND, if top bidder falls through I will go down the list of bidders. No bid retractions without seller's prior approval! Shipping costs are the responsibility of the buyer. This automobile is being actively sold locally if the right price is offered before the auction is over the auction will be ended early. The seller reserves the right to cancel this auction at anytime. THANK YOU AND GOOD LUCK BIDDING!
Related Cars & Trucks:
show more